Tuiliks (tuillit) and Kayak Clothing
When they travel by sea, they put on as a great-coat over their common garment, a tuelik, i.e. a black, smooth seal's hide, that keeps out water David Crantz, 1767, The History of Greenland
Until you experience a tuilik (pronounced "doo-ee-leek") you won't realize what the fuss is about and just how restrictive a "standard" tight neoprene skirt is.
A tuilik is loose fitting, and seals around the cockpit rim, at your wrists, and around your face and jaw bones. The facial seal is more comfortable to many people than a tight neck gasket, and the full hood keeps your neck and ears warm. Not only does the tuilik give you tremendous freedom of movement and warmth, but it eliminates the rubber-band effect of a neoprene skirt that resists your efforts to stretch your torso away from the cockpit.
Should you swim, a traditional-cut (long) tuilik allows you to pull your legs inside the suit, trapping a large volume of air (like an open-ended diving bell) but be aware that the air can slowly bleed away over time (or you could be up-ended in rough water) which would cause your legs and inner clothing layers to get wet. For these reasons many people treat the tuilik as a dry-top in a swim and dress accordingly. For example, although it is rare in Greenland, many people outside of Greenland wear a drysuit under a tuilik for an added margin of safety.
As with all protective gear you should experiment with a swim-test in your tuilik in safe conditions. You may be pleasantly surprised at how much initial flotation the suit provides. Swimming progress while wearing a tuilik is relatively good, although you will be slowed down by the bulk and drag of the suit (and your PFD), as you would expect. In my experiences, the arms of the tuilik didn't balloon with water as I swam, a problem can occur with a conventional paddling jacket. Should this happen, use a breast stroke or other technique that allows you to keep your arms submerged.
A tuilik is designed for cold weather use (it is fantastic for surfing, roll practice and other active pursuits). For touring, a neoprene tuilik can be much too hot in warm climates, but there are now Gore-Tex tuiliks available that have a much wider comfort range.
For fair-weather use in the summer many Greenlanders use a short sprayskirt (akuilisaq or tuiitsoq) instead. The commercial versions of these garments are similar to a "standard" skirt, but are conical in shape and provide more freedom of movement.
The British Museum has compiled a wonderful virtual tour of modern kayaking clothing made and used by the kayaking clubs in Greenland today. The text includes very illuminating passages describing both the equipment and some of the emotions surrounding it.
Information on the principles, materials and the making of arctic clothing.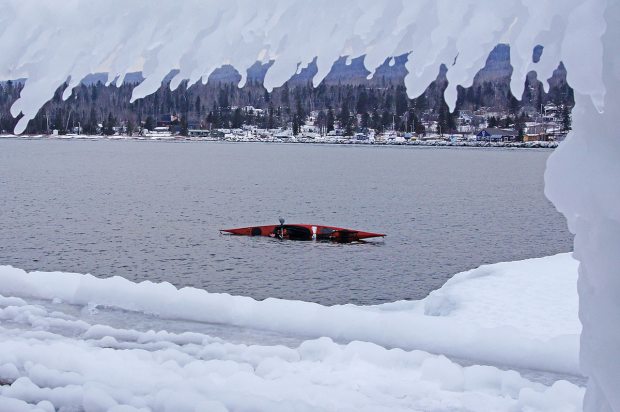 Bryan provides good information on the tuilik. His site, paddlinglight.com also contains a review of the Comfort Paddling tuilik.
---
Tuilik Reviews
Bryan Hansel reviews the Comfort Paddling tuilik
Christopher Crowhurst compares and contrasts the popular Brooks and Reed tuiliks.

For more information about the Brooks product, see the Brooks Greenland Page.  In addition to their  tuilik, Brooks also makes a neoprene avataq (inflatable bladder) that is used at the annual Greenland Championships.
Some other popular tuilik brands are made by Reed, Comfort Paddling.
---
Tuilik Making
John shares an illustrated guide for his method of making a neoprene tuilik.
This tuilik pattern is based on diagrams by H.C. Petersen and Wolfgang Brinck. This pattern will enable you to make a great fitting garment using neoprene or other stretchy fabrics. Includes cutting lines and instructions to fit a wide range of adult sizes. The final product offers a fit similar to a commercial neoprene tuilik, but has a more traditional appearance, hood and seam details.
On the Qajaq Online store you will also find Grippy (one-side) Neoprene Strip, 3" x 85" x 3mm (7.62cm x 215.9cm x 3mm). This material is perfect for making the bottom casing on a tuilik or a tuitsoq. As a service to our members we buy this in large (expensive) sheets and pre-cut it for your convenience.
Qaannamik pinnguaatit (kayak games) by H.C. Petersen
This small book is available only in Greenlandic but includes an excellent pattern for a tuilik and a diagram for three different blunt-tipped "practice" harpoons. The book opens with a drawing of a mother moving the arms of her baby to begin his kayak training and a balance board used to hone his balance. Also includes a short bit of information on sculling, rolling, and the rope gymnastics. Available online from Atuagkat and Neriusaaq Bookstore.

Making a Tuilik, Akuilisaq & Cockpit Cover by Dana Rutherford.
Making A Chris Cunningham Tuilik - A southern hemisphere interpretation by Pete Notman and Tony Calvert.